Mesostics (2006)

Chaos baart harmonie (2005)

This piece was inspired in part by the ancient greek teaching of the classical four elements: water, earth, air and fire.
First the genesis of each of the four elements is illustrated. After each element has been introduced in this manner, they come together and form the quartet of the four elements. Then gradually one spectral partial per element is singled out, hyperbolized. Suddenly a new quartet evolves. If the previous one had been of a rather chaotic nature, this one is rather of a harmonic kind. In this sense a gradual transition from chaos to harmony takes place.
As a composer I was intruiged by the idea to first let nature speak for itself, to let it be the composer as much as possi-ble, before I as a human being consciously intervene and shape nature. Mankind, especially western civilization, is doing this all the time and unfortunately too often this results in nature destruction.
So there is also a transition form nature to culture. And the degree of intervention, of order increases, simply through spectral reduction and shortening the length of the loops, which are first not identifyable as such because they are too long and therefore complex. But as they get shorter patterns arise. And to me a pattern is a symbol of order, rather belonging to culture, though there are patterns in nature too. As with a large gong, which has been hit, at the end only one partial remains and even the last one dies out.
For the four elements I convoluted water, earth, air and fire sounds with sounds from the instrument-sculptures made by dutch sculptor Willem Fermont.

Patterns in a chromatic field I-IV - IM Morton Feldman (2009)

Following a (health) crisis of almost two years in which I hadn't composed any music, I've made a new attempt at composition. This new attempt was probably triggered, or enabled, by Morton Feldman's term "crippled symmetry". It intrigued me to think about it and then redefine it musically. It led me ultimately to see a central tonal element, such as a triad, differently, to see it in terms of symmetry, asymmetry, and maybe crippled symmetry. If you view a triad from the middle tone, it is (in case of a major triad) two whole-tone steps downwards to the bottom note but one whole-tone-and-a-half up to the top note. Viewed in this way, you could think of the triad as asymmetrical, or perhaps as an example of "crippled" symmetry because it takes just one half-step to symmetry.  This inspired me to fill in this abstract harmonic concept of asymmetry, or crippled symmetry, with other intervals, seconds, fourths, sixths, or sevenths, whereby the seconds, fourths (with tritone) and sevenths are very interesting and the sixths yield conventional triads. Abstractly this all can be seen as a combination of major (symmetric) and minor (asymmetric) intervals. In composing with them I found that the triads with seconds and sevenths have a rather moving quality, whereas the triads with fourths have a rather stationary quality. In using aleatoric methods, I tried to apply those qualities musically, in time, trying to accomplish an interesting tension between moving and stationary elements, alternating between movement and stasis. I call this the "one-page-approach", by which I mean that I simply confronted myself with approximately one page of aleatorically generated notes. I observed these notes rather like a painter, deriving melodic patterns while some of the notes remained isolated (hence the stationary quality). From these melodic patterns, I generated my building blocks for the composition. I tried to establish coherence through my harmonic approach (with an emphasis on try because it doesn't exclude deviations from it). I always work through a "prima l' esperienza" process, more like Varese's or Feldman's sound empiricism than Stockhausen's 'Prinzipientreue'. My aleatoric approach was not very strict but rather inspirational, sometimes I stripped off certain notes or added certain notes or changed a note to make the melodies more interesting, sometimes I used them as a chord when they didn't appeal to me melodically, sometimes I applied micro-systems to develop the melody in time. Therefore you can see this music as a combination of chance and order.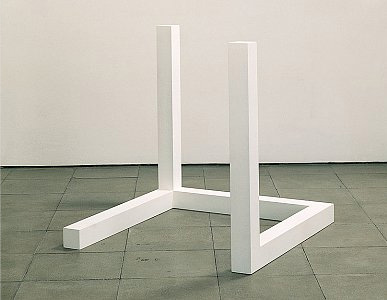 aliasing bell pattern (2009)

Aliasing is a well-kwown term in digital signal processing theory. Simply put, it describes the artefacts that arise when you reduce the sampling frequency, from a standard value like 44,1 kHz. The original signal is then not well represented digitally anymore and mutates.
Because you falsefy the original acoustical signal, aliasing is regarded as an artefact, which should be prevented. Basically, it is regarded as a mistake.
I have discovered a method with which you can apply this "mistake" in a musical, transformative way. You can hear how a rhythmical pattern mutates gradually, away from its original pattern, until it has finally evolved into a completely different sound-phenomenon – a complex, slow changing drone; from a bell sound it transforms into an organ sound and vice versa.
It was my intention to explore the different perceptual qualities of that same algorithm/technique, because 'transitions inbeteween always have the sensation of something phenomenal' (Trevor Wishart). Maybe with this piece I was able to go into this direction.

Ceci n'est pas ma voix (2010)

Magritte's central thought behind "Ceci n'est pas une pipe" can be upheld and hopefully enriched, when translating it into sound. Like his pipe was only an image, a reproduction of a real pipe, the voice that is audible is only a digital reproduction of a real voice. Magritte points out that no matter how closely - through realism-art - we come to depicting an item accurately, we never do catch the item itself. When translated into sound the contradiction seems even stronger, because here it is the object itself (my voice) which is stating that it is not the object. Moreover through a sampling rate of 44,1kHz or even higher the depiction of human speech becomes so frighteningly close to the original that you almost can't tell the difference. But still, it is not a human being who speaks to you, but speakers. They are in this case the real sound emitters, not my voice. Encoded information, digital bits, "0s and 1s", are ultimately the source of that speaker emittance, not the larynx and the mouth. To emphasize this thought musically, transformation techniques, such as aliasing and looplength modulation - that become possible in digital and resynthesis domain - are utilized.
This multi-lingual, musical Magritte spin-off is structured in three parts:

I - "This is not my voice, this is only a digital copy of my voice"

In the first part you can hear how, through down-sampling a speech phrase is distorted and transformed slowly into single digital pulses that start to resonate, which gives it a drum-like character. Through the polymetric relationship out of aliasing frequency and the period of the original speech sample new accents and rhythms constantly arise. A second voice is added in canon to the first voice so that the two pulse streams create kind of interlocking figures. Sudden accelerations or decelerations deviate from the pulse and introduce a chaotic element which creates additional rhythmic complexity and tension. Finally the process is mirrored and the pulses transform back into the speech phrase.

II - "Ceci n'est pas ma voix, c'est seulement la synthèse de ma voix"

In part II a resynthesis of the phrase is divided into many spectral partials. Gradually new groupings of partials evolve. They are manifestations of spectral consonance-dissonance, of spectral orchestration. When a new "partial ensemble" has been established, the highest partial or spectral track is added and the speech phrase becomes intelligible again.

III - "Dies ist nicht meine Stimme, es ist nur eine digitale Kopie meiner Stimme"

The closing third part was partly inspired by Steve Reichs "come out" - certainly the phasing technique, but also more generally the thought to go from speech to sound, from its semantic meaning to its pure musical, sounding meaning. What might be new is the conscious decision to transform speech (words) into machine-like sounds - this also emphasizes the previous thought. Through a gradual decrease in looplength certain consonants or vowels are isolated and looped. For example, isolating and looping the "o" in "Kopie" accomplishes a kind of motor sound, isolating and looping the "s" in "Dies" creates a steaming engine. At the end the entire machine, its components, phases. This, together with the polyrhythmic mix of all those speech machine sounds, makes the same always sound slightly different.

What Was Was (2011), by David Baker

Wherein an alphabet of surges and shadows bloom like Rorschach indices, clouds of indeterminate origin in a continuous refulgent hierophany, hierophany from the Greek roots "hieros" meaning sacred or holy and "phainein" meaning to reveal or to bring to light.
"…the true God mimics the universe…debris no longer noticed.. Lurking,the true God literally ambushes reality and us as well… Hence we say, the true God is in the habit of concealing himself… 'Latent form is the master of obvious form.' " - Philip K.Dick, Valis

Article Sound Of Music (dutch)
"Schminke fürs Ohr", Article Klaus Hübner (german)
"Harmonien in Zeitlupe", Article Klaus Hübner (german)
"Soms kalm, dan weer donker en verstild", Article Anthony Fiumara (dutch)
Article in Neue Zeitschirft für Musik, Klaus Hübner (german)
Article in Kwadratuur (BEL), Koen van Meel (dutch)
Article in Jazzpodium, Klaus Huebner (german)
Article in Rheinische Post, Barbara Mühlenhoff (german)
Article in Piano Bulletin, Christo Lelie (dutch)